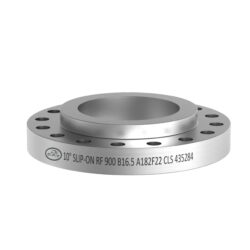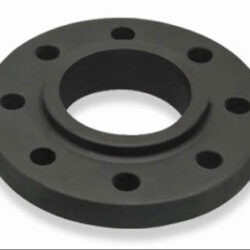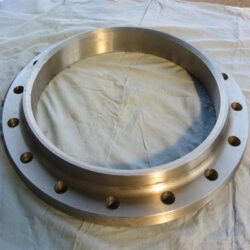 Slip on flange, also called SO flange. It's a kind of flange slides over the pipe with internal design is slightly larger than the pipe. Since the inner diameter of the flange is slightly larger than the outer diameter of the pipe, the SO flange can be directly connected to equipment or pipe by fillet weld at the top and bottom of the flange. It is used to insert the pipe into the inner hole of the flange.
Our Supply Range:
Standard: ASTM A105, ASTM A182
Material: Carbon Steel, Alloy Steel, Stainless Steel
Size: 1/2" to 24", customized up to 60"
Pressure Ratings: Class 150 to Class 2500
Face Type: RF, RTJ
Types of Slip On Flange Welding:
The SO flange can be divided into SO welding plate flange and SO welding hubbed steel pipe flange. Its mechanical characteristics are between the integral flange and the looping flange. The structure is simple, and the processing is convenient. So slip on flange welding is widely used in various fluid pipelines.
Depends on different face, there are also ranges raised face type and ring type joint face type.
Raised Face Slip On Flange:
There is a small portion extruded from the bottom face of the slip on flange, this type is raised face slip on flange. The function of this area is to place a gasket seat during installation to get a better sealing performance. 
As the pressure ratings bigger, the height of this raised face will be bigger.
RTJ Slip on Flange:
A small grooved is machined on the raised face part, this form is called RTJ type, the function of this groove is to place the gasket ring, also applied for sealing, compared to RF type, RTJ is designed for high pressure use.Slip on flange use slip welding to connect equipment, so either below of name is describing the same flange:
Slip on weld flange

Slip on flange weld

Weld slip on flange

Slip on flange welding

SO flange
Referred Standard and Grades:
ASTM A105 for carbon steel slip on pipe flanges.
ASTM A182 for alloy and stainless slip on flanges. (Alloy for F11, F22, stainless for F304/F304L, F316/F316L)
ASME B16.5 for pipe flanges and flanged fittings.
BS 3293
DIN 86029
Dimensions and Pressure Ratings:
Common outer diameters: 1/2", 2",  3", 4", 6", 8", 10", 12", to 24".
Special made outer diameters: Up to 60".
Class range: Class 150, Class 300, 400, 600, 900, 1500, 2500(# or LB). PN 2.5 to PN 250.
Flange face type: RF (Raised Face), RTJ (Ring Type Joint)
Manufacturing Types:
Slip on flange can be made by forging, steel cutting, casting and etc. Among these manufacturing types, the forging type gains the best quality and also the most common use, price is higher than other types. So before purchase the slip on flange, you have to know what is the specific working environment.
Advantages of Slip On Flange:
Lower installation costs

More easy to align with other parts during installation

Better leaking proof

​Inner and outer welding on flange

Takes less time to cut accurately for the pipelines

As pipe slides on the flange, it compatible with lower hub on slip on flange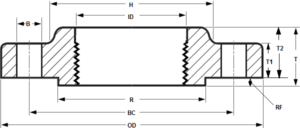 | | | | | | | | | | | | |
| --- | --- | --- | --- | --- | --- | --- | --- | --- | --- | --- | --- |
| Nominal | Outside | Thick of | Diameter of | Diameter of | Length | Dia of | No of | Dia of | Dia of | Diam of | Approx |
| Pipe Size | diameter of | flange | Hub at base | raised face | thru Hub | bore | holes | holes | bolts | bolt circle | weight |
|   | flange | (B) | (A) | (G) | (H) | (ID) |   | (L) |   | (K) | kg |
|   | (D) |   |   |   |   |   |   |   |   |   |   |
| 1/2. | 88.9 | 11.2 | 35.1 | 30.2 | 15.7 | 22.4 | 4 | 15.7 | 1/2. | 60.5 | 0.5 |
| 3/4. | 98.6 | 12.7 | 42.9 | 38.1 | 15.7 | 27.7 | 4 | 15.7 | 1/2. | 69.9 | 1 |
| 1 | 108 | 14.2 | 50.8 | 49.3 | 17.5 | 34.5 | 4 | 15.7 | 1/2. | 79.2 | 1 |
| 1-1/4. | 117.3 | 15.7 | 63.5 | 58.7 | 20.6 | 43.2 | 4 | 15.7 | 1/2. | 88.9 | 1 |
| 1-1/2. | 127 | 17.5 | 73.2 | 65 | 22.4 | 49.5 | 4 | 15.7 | 1/2. | 98.6 | 1 |
| 2 | 152.4 | 19.1 | 91.9 | 77.7 | 25.4 | 62 | 4 | 19.1 | 5/8. | 120.7 | 2 |
| 2-1/2. | 177.8 | 22.4 | 104.6 | 90.4 | 28.4 | 74.7 | 4 | 19.1 | 5/8. | 139.7 | 3 |
| 3 | 190.5 | 23.9 | 127 | 108 | 30.2 | 90.7 | 4 | 19.1 | 5/8. | 152.4 | 4 |
| 3-1/2. | 215.9 | 23.9 | 139.7 | 122.2 | 31.8 | 103.4 | 8 | 19.1 | 5/8. | 177.8 | 5 |
| 4 | 228.6 | 23.9 | 157.2 | 134.9 | 33.3 | 116.1 | 8 | 19.1 | 5/8. | 190.5 | 6 |
| 5 | 254 | 23.9 | 185.7 | 163.6 | 36.6 | 143.8 | 8 | 22.4 | 3/4. | 215.9 | 7 |
| 6 | 279.4 | 25.4 | 215.9 | 192 | 39.6 | 170.7 | 8 | 22.4 | 3/4. | 241.3 | 9 |
| 8 | 342.9 | 28.4 | 269.7 | 246.1 | 44.5 | 221.5 | 8 | 22.4 | 3/4. | 298.5 | 14 |
| 10 | 406.4 | 30.2 | 323.9 | 304.8 | 49.3 | 276.4 | 12 | 25.4 | 7/8. | 362 | 20 |
| 12 | 482.6 | 31.8 | 381 | 365.3 | 55.6 | 327.2 | 12 | 25.4 | 7/8. | 431.8 | 29 |
| 14 | 533.4 | 35.1 | 412.8 | 400.1 | 57.2 | 359.2 | 12 | 28.4 | 1 | 476.3 | 41 |
| 16 | 596.9 | 36.6 | 469.9 | 457.2 | 63.5 | 410.5 | 16 | 28.4 | 1 | 539.8 | 44 |
| 18 | 635 | 39.6 | 533.4 | 505 | 68.3 | 461.8 | 16 | 31.8 | 1-1/8. | 577.9 | 59 |
| 20 | 698.5 | 42.9 | 584.2 | 558.8 | 73.2 | 513.1 | 20 | 31.8 | 1-1/8. | 635 | 75 |
| 24 | 812.8 | 47.8 | 692.2 | 663.4 | 82.6 | 616 | 20 | 35.1 | 1-1/4. | 749.3 | 100 |
Dimensions of Class 300 Slip-On Flanges
| | | | | | | | | | | | |
| --- | --- | --- | --- | --- | --- | --- | --- | --- | --- | --- | --- |
| Nominal | Outside | Thick of | Diameter of | Diameter of | Length | Dia of | No of | Dia of | Dia of | Diam of | Approx |
| Pipe Size | diameter of | flange | Hub at base | raised face | thru Hub | bore | holes | holes | bolts | bolt circle | weight |
|   | flange | (B) | (A) | (G) | (H) | (ID) |   | (L) |   | (K) | kg |
|   | (D) |   |   |   |   |   |   |   |   |   |   |
| 1/2. | 95.3 | 14.2 | 35.1 | 38.1 | 22.4 | 22.4 | 4 | 15.7 | 1/2. | 66.5 | 1 |
| 3/4. | 117.3 | 15.7 | 42.9 | 47.8 | 25.4 | 27.7 | 4 | 19.1 | 5/8. | 82.6 | 1 |
| 1 | 124 | 17.5 | 50.8 | 53.8 | 26.9 | 34.5 | 4 | 19.1 | 5/8. | 88.9 | 1 |
| 1-1/4. | 133.4 | 19.1 | 63.5 | 63.5 | 26.9 | 43.2 | 4 | 19.1 | 5/8. | 98.6 | 2 |
| 1-1/2. | 155.4 | 20.6 | 73.2 | 69.9 | 30.2 | 49.5 | 4 | 22.4 | 3/4. | 114.3 | 3 |
| 2 | 165.1 | 22.4 | 91.9 | 84.1 | 33.3 | 62 | 8 | 19.1 | 5/8. | 127 | 3 |
| 2-1/2. | 190.5 | 25.4 | 104.6 | 100.1 | 38.1 | 74.7 | 8 | 22.4 | 3/4. | 149.4 | 5 |
| 3 | 209.6 | 28.4 | 127 | 117.3 | 42.9 | 90.7 | 22.4 | 8 | 3/4. | 168.1 | 6 |
| 3-1/2. | 228.6 | 30.2 | 139.7 | 133.4 | 44.5 | 103.4 | 22.4 | 8 | 3/4. | 184.2 | 8 |
| 4 | 254 | 31.8 | 157.2 | 146.1 | 47.8 | 116.1 | 8 | 22.4 | 3/4. | 200.2 | 10 |
| 5 | 279.4 | 35.1 | 185.7 | 177.8 | 50.8 | 143.8 | 8 | 22.4 | 3/4. | 235 | 13 |
| 6 | 317.5 | 36.6 | 215.9 | 206.2 | 52.3 | 170.7 | 12 | 22.4 | 3/4. | 269.7 | 18 |
| 8 | 381 | 41.1 | 269.7 | 260.4 | 62 | 221.5 | 12 | 25.4 | 73/93 | 330.2 | 26 |
| 10 | 444.5 | 47.8 | 323.9 | 320.5 | 66.5 | 276.4 | 16 | 28.4 | 1 | 387.4 | 37 |
| 12 | 520.7 | 50.8 | 381 | 374.7 | 73.2 | 327.2 | 16 | 31.8 | 1-1/8. | 450.9 | 52 |
| 14 | 584.2 | 53.8 | 412.8 | 425.5 | 76.2 | 359.2 | 20 | 31.8 | 1-1/8. | 514.4 | 75 |
| 16 | 647.7 | 57.2 | 469.9 | 482.6 | 82.6 | 410.5 | 20 | 35.1 | 1-1/4. | 571.5 | 86 |
| 18 | 711.2 | 60.5 | 533.4 | 533.4 | 88.9 | 461.8 | 24 | 35.1 | 1-1/4. | 628.7 | 113 |
| 20 | 774.7 | 63.5 | 584.2 | 587.2 | 95.3 | 513.1 | 24 | 35.1 | 1-1/4. | 685.8 | 143 |
| 24 | 914.4 | 69.9 | 692.2 | 701.5 | 106.4 | 616 | 24 | 41.1 | 1-1/2. | 812.8 | 215 |
Dimensions of Class 600 Slip-On Flanges
| | | | | | | | | | | | |
| --- | --- | --- | --- | --- | --- | --- | --- | --- | --- | --- | --- |
| Nominal | Outside | Thick of | Diameter of | Diameter of | Length | Dia of | No of | Dia of | Dia of | Diam of | Approx |
| Pipe Size | diameter of | flange | Hub at base | raised face | thru Hub | bore | holes | holes | bolts | bolt circle | weight |
|   | flange | (B) | (A) | (G) | (H) | (ID) |   | (L) |   | (K) | kg |
|   | (D) |   |   |   |   |   |   |   |   |   |   |
| 1/2. | 95.3 | 14.2 | 35.1 | 38.1 | 22.4 | 22.4 | 4 | 15.7 | 1/2. | 66.5 | 1 |
| 3/4. | 117.3 | 15.7 | 42.9 | 47.8 | 25.4 | 27.7 | 4 | 19.1 | 5/8. | 82.6 | 1 |
| 1 | 124 | 17.5 | 50.8 | 53.8 | 26.9 | 34.5 | 4 | 19.1 | 5/8. | 88.9 | 2 |
| 1-1/4. | 133.4 | 20.6 | 63.5 | 63.5 | 28.4 | 43.2 | 4 | 19.1 | 5/8. | 98.6 | 2 |
| 1-1/2. | 155.4 | 22.4 | 73.2 | 69.9 | 31.8 | 49.5 | 4 | 22.4 | 3/4. | 114.3 | 3 |
| 2 | 165.1 | 25.4 | 91.9 | 84.1 | 36.6 | 62 | 8 | 19.1 | 5/8. | 127 | 4 |
| 2-1/2. | 190.5 | 28.4 | 104.6 | 100.1 | 41.1 | 74.7 | 8 | 22.4 | 3/4. | 149.4 | 6 |
| 3 | 209.6 | 31.8 | 127 | 117.3 | 46 | 90.7 | 8 | 22.4 | 3/4. | 168.1 | 7 |
| 3-1/2. | 228.6 | 35.1 | 139.7 | 133.4 | 49.3 | 103.4 | 8 | 25.4 | 7/8. | 184.2 | 10 |
| 4 | 273.1 | 38.1 | 157.2 | 152.4 | 53.8 | 116.1 | 8 | 25.4 | 7/8. | 215.9 | 17 |
| 5 | 330.2 | 44.5 | 185.7 | 189 | 60.5 | 143.8 | 8 | 28.4 | 1 | 266.7 | 29 |
| 8 | 419.1 | 55.6 | 269.7 | 273.1 | 76.2 | 221.5 | 12 | 31.8 | 1-1/8. | 349.3 | 52 |
| 10 | 508 | 63.5 | 323.9 | 342.9 | 85.9 | 276.4 | 16 | 35.1 | 1-1/4. | 431.8 | 77 |
| 12 | 558.8 | 66.5 | 381 | 400.1 | 91.9 | 327.2 | 20 | 35.1 | 1-1/4. | 489 | 91 |
| 14 | 603.3 | 69.9 | 412.8 | 431.8 | 93.7 | 359.2 | 20 | 38.1 | 1-3/8. | 527.1 | 104 |
| 16 | 685.8 | 76.2 | 469.9 | 495.3 | 106.4 | 410.5 | 20 | 41.1 | 1-1/2. | 603.3 | 150 |
| 18 | 743 | 82.6 | 533.4 | 546.1 | 117.3 | 461.8 | 20 | 44.5 | 1-5/8. | 654.1 | 181 |
| 20 | 812.8 | 88.9 | 584.2 | 609.6 | 127 | 513.1 | 24 | 44.5 | 1-5/8. | 723.9 | 231 |
| 24 | 939.8 | 101.6 | 692.2 | 717.6 | 139.7 | 616 | 24 | 50.8 | 1-7/8. | 838.2 | 331 |
Dimensions of Class 900 Slip-On Flanges

Nominal
Outside
Thick of
Diameter of
Diameter of
Length
Dia of
No of
Dia of
Dia of
Diam of
Approx
Pipe Size
diameter of
flange
Hub at base
raised face
thru Hub
bore
holes
holes
bolts
bolt circle
weight
 
flange
(B)
(A)
(G)
(H)
(ID)
 
(L)
 
(K)
kg
 
(D)
 
 
 
 
 
 
 
 
 
 
1/2.
120.7
22.4
35.1
38.1
31.8
22.4
4
22.4
3/4.
82.6
2
3/4.
130
25.4
42.9
44.5
35.1
27.7
4
22.4
3/4.
88.9
2
1
149.4
28.4
50.8
52.3
41.1
34.5
4
25.4
7/8.
101.6
4
1-1/4.
158.8
28.4
63.5
63.5
41.1
43.2
4
25.4
7/8.
111.3
4
1-1/2.
177.8
31.8
73.2
69.9
44.5
49.5
4
28.4
1
124
5
2
215.9
38.1
91.9
104.6
57.2
62
8
25.4
7/8.
165.1
11
2-1/2.
244.3
41.1
104.6
124
63.5
74.7
8
28.4
1
190.5
16
3
241.3
38.1
127
127
53.8
90.7
8
25.4
7/8.
190.5
12
4
292.1
44.5
157.2
158.8
69.9
116.1
8
31.8
1-1/8.
235
24
5
349.3
50.8
185.7
190.5
79.2
143.8
8
35.1
1-1/4.
279.4
38
6
381
55.6
215.9
235
85.9
170.7
31.8
12
1-1/8.
317.5
50
8
469.9
63.5
269.7
298.5
101.6
221.5
12
38.1
1-3/8.
393.7
77
10
546.1
69.9
323.9
368.3
108
276.4
16
38.1
1-3/8.
469.9
111
12
609.6
79.2
381
419.1
117.3
327.2
20
38.1
1-3/8.
533.4
147
14
641.4
85.9
412.8
450.9
130
359.2
20
41.1
1-1/2.
558.8
181
16
704.9
88.9
469.9
508
133.4
410.5
20
44.5
1-5/8.
41.3
616
18
787.4
101.6
533.4
565.2
152.4
461.8
20
50.8
1-7/8.
685.8
272
20
857.3
108
584.2
622.3
158.8
513.1
20
53.8
2
749.3
331
24
1041.4
139.7
692.2
749.3
203.2
616
20
66.5
2-1/2.
901.7
635
Dimensions of Class 1500 Slip-On Flanges

Nominal
Outside
Thick of
Diameter of
Diameter of
Length
Dia of
No of
Dia of
Dia of
Diam of
Approx
Pipe Size
diameter of
flange
Hub at base
raised face
thru Hub
bore
holes
holes
bolts
bolt circle
weight
 
flange
(B)
(A)
(G)
(H)
(ID)
 
(L)
 
(K)
kg
 
(D)
 
 
 
 
 
 
 
 
 
 
1/2.
120.7
22.4
35.1
38.1
31.8
22.4
4
22.4
3/4.
82.6
2
3/4.
130
25.4
42.9
44.5
35.1
27.7
4
22.4
3/4.
88.9
2
1
149.4
28.4
50.8
52.3
41.1
34.5
4
25.4
7/8.
101.6
4
1-1/4.
158.8
28.4
63.5
63.5
41.1
43.2
4
25.4
7/8.
111.3
4
1-1/2.
177.8
31.8
73.2
69.9
44.5
49.5
4
28.4
1
124
5
2
215.9
38.1
91.9
104.6
57.2
62
8
25.4
7/8.
165.1
11
2-1/2.
244.3
41.1
104.6
124
63.5
74.7
8
28.4
1
190.5
16
3
266.7
47.8
127
133.4
73.2
–
8
31.8
1-1/8.
203.2
22
4
311.2
53.8
157.2
162.1
90.4
–
8
35.1
1-1/4.
241.3
33
5
374.7
73.2
185.7
196.9
104.6
–
8
41.1
1-1/2.
292.1
59
6
393.7
82.6
215.9
228.6
119.1
–
12
38.1
1-3/8.
317.5
75
8
482.6
91.9
269.7
292.1
142.7
–
12
44.5
1-5/8.
393.7
118
10
584.2
108
323.9
368.3
158.8
–
12
50.8
1-7/8.
482.6
197
12
673.1
124
381
450.9
180.8
–
16
53.8
2
571.5
263
14
749.3
133.4
412.8
495.3
–
–
16
60.5
2-1/4.
635
–
16
825.5
146.1
469.9
552.5
–
–
16
66.5
2-1/2.
704.9
–
18
914.4
162.1
533.4
596.9
–
–
16
73.2
2-3/4.
774.7
–
20
984.3
177.8
584.2
641.4
–
–
16
79.2
3
831.9
–
24
1168.4
203.2
692.2
762
–
–
16
91.9
3-1/2.
990.6
–